Welcome to the Sepulveda Women's Golf Club
last updated: 03/13/14 | Total Club Page Views:48,514
CLICK HERE FOR SNEAK PREVIEW TO OUR LOOK
Welcome to the Sepulveda Women's Golf Club!
The Sepulveda Women's Golf Club was founded in 1957 by a spirited, fun-loving and competitive group of ladies, who, inspired by the fledgling LPGA, dedicated themselves to furthering the future of women's golf. Over the years, the players have changed but the dedication to their sport and the camaraderie of friendship has persisted.
As a continually active club, the SWGC plays every Tuesday morning at the Sepulveda Golf Complex. Sporting two full size courses, Balboa and Encino, we are the only ladies club in the
San Fernando Valley
to enjoy the benefit of alternating courses, with 36 of the best kept greens in city golf.
Every week the club offers different games, with handicapped flights, for those who enjoy the competition or you can just come out to play for fun. However, because we are a sanctioned club with the WLPGA, we do play by all the USGA rules and do expect our players to play "ready golf"

order to keep proper pace of play

.
From time to time the club plays 'away' games at various other courses nearby. For

those who wish to play more than weekly golf we also participate in Publinks Team Play every spring, as well as their monthly play-day and County play-day, offering a diverse variety of courses and competition with different organizations.
We are always looking for new members and invite you to join us in a few rounds of golf to see if becoming part of our club is something you might enjoy.
Please email us at:
terrioconnell@att.net
---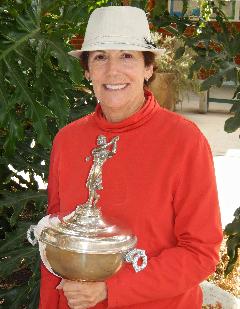 ROZ TAUB
---